We are a hockey family owned and operated business. All of our printing is done in-house. EVERY order is handled with hockey passion and care...quality matters! Our operation is geared for bulk production to service teams, clubs, leagues, and associations with orders of 25 to 500+ pucks per production run. We also do large runs for events, business promotional, and special occations. Give us a shot!

Need a Quote?
email us: custom@hockeypucks.com
1. Need by date
2. Quantity of Pucks
3. Attach high resolution logo/artwork files (.eps .ai .pdf preferred).

Quote and proofs sent back to you within 24 hours (Mon-Fri) - Thank You!
Custom Puck Team


- CUSTOM PUCK SERVICES

Utilizing modern printing equipment, we make no compromises in producing vibrant custom logo pucks.
We have the capability to print just about anything you can throw at us.
Photographs - Gradients - a Dozen Colors? No Problem.

Whatever it may be that you need printed, we'll make sure your pucks look outstanding.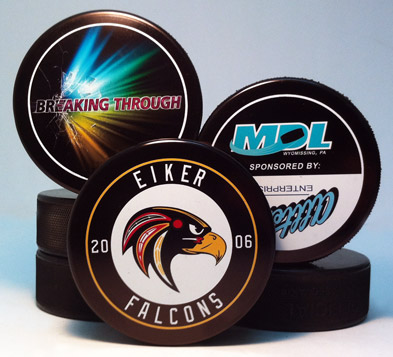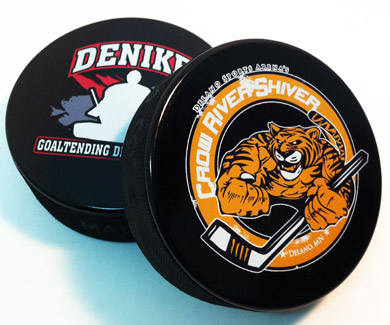 Crafted by hand. Not a single corner cut.
Our pucks feature a classy finish that make them absolutely eye-catching. They are game quality and meet all Official Regulation specs.

We pride ourselves on offering a premium product, but our job doesn't end there. Every customer has specific needs - we work hard to accomodate special requests and quick deadlines.
Establishing personal and lasting relationships.
Our favorite part of the business is getting to know our customers. We're always interested in what our pucks are being used for!

100% Customer satisfaction is our commitment. If you're unsatisfied in anyway, we want to know so we can do whatever it takes to make it right.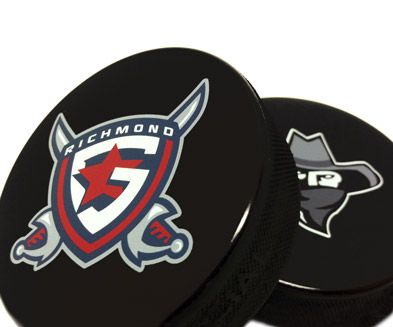 Please note that while we make every effort possible to ensure the maximum durability of our pucks, using custom pucks for gameplay will result in damage to the logo. The abrasive surface of the ice, intense compression from slapshots, the blades of Hockey skates, and a myriad of other factors make for an incredibly damaging enviroment.

The level of play at which the pucks are used will also effect the amount of time a logo will survive on a puck. It is often remarked that, in an NHL game, a logo will only last 2-3 minutes on a puck before coming off completely. Conversely, a custom puck could easily last a season of Squirt level play without seeing significant damage.

Because of the wide spectrum of enviroments and conditions any given puck may face, we cannot make a guaranty on how long a custom puck can be used for in gameplay before it's logo displays damage.


We cannot print copyrighted logos unless you have use rights.

Please submit only images and artwork that you have authorized use.